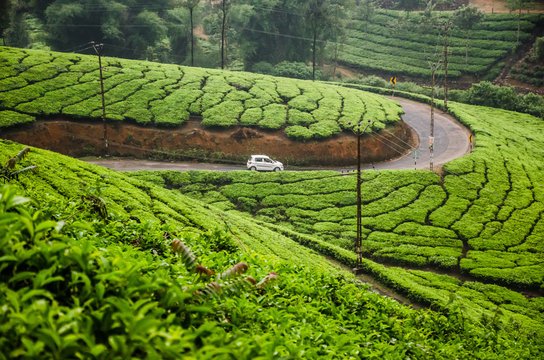 How to reach from Cochin to Munnar
How to reach Munnar

Getting to Munnar via Road
Munnar is situated in Idukki district of Kerala. The district is bordered by the neighboring districts of Kottayam, Ernakulam, Thrissur and Pathanamthitta. It lies at an altitude of 1532 metres above sea level and is one of the most popular hill stations in Kerala and India. Located on the southern fringes of the Western Ghats, Munnar is spread over an area of 557 square kilometers.

The region is renowned for its unending expanse of tea plantations pristine valleys and mountains, exotic species of flora and fauna in its wild sanctuaries and historic places of interest like the Tata Tea Museum.

One can reach Munnar via road by using either private transportation or public transportation with private and KSRTC buses that ply to the region from various parts of the neighboring districts. If one is arriving at the Cochin International Airport, one can take a bus from the airport to the closest town of Angamaly and from there they can board another bus to Munnar which goes via the towns of Kalady, Perumbavoor, Kothamangalam and Adimaly before finally reaching the town of Munnar.

If one is travelling to Munnar from the Aluva railway station one can take a bus from the KSRTC stand near the railways station and reach Munnar via Perumbavoor, Kothamangalam and Adimaly.

Alternately if one is travelling from Fort Kochi or Mattanchery in Ernakulam, one can take the Kochi Munnar road and arrive Munnar via the towns of Thrippunithura, Puthencruz, Kolenchery, Muvattupuzha, Kothamangalam and Adimaly.

Sightseeing places en route to Munnar:

Cheeyappara falls
The Cheeyappara Waterfall is on the Kochi - Madurai Highway (National Highway 49), between Neriamangalam and Adimali. The waterfalls that cascades down along seven steps, serves as a refreshing site for travellers on their way to Idukki.

Valara falls
Valara waterfalls are a series of waterfalls surrounded by thick greenery, located in Valara aliong the eastern border of the Ernakulam District and the Idukki District on the Kochi Madurai Highway.